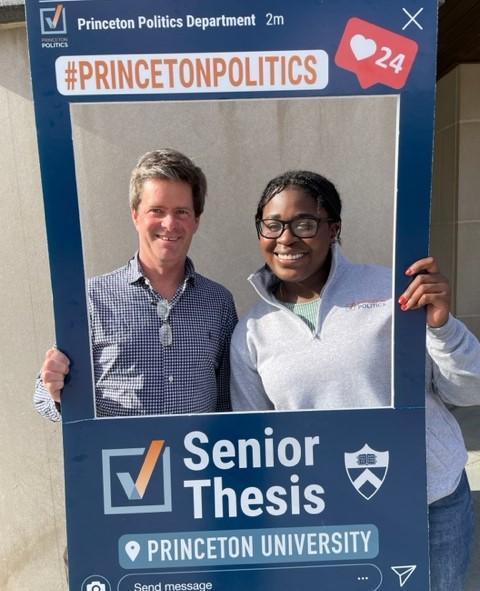 During the senior year, each student writes a thesis. The senior thesis is expected to make an original (or otherwise distinctive) contribution to broader knowledge in the field in which the student is working. It is important that the thesis be situated explicitly in relation to existing published literature. The senior thesis must be judged satisfactory by two members of the faculty, at least one of whom must be a member of the Department of Politics. 
It is common, but by no means required, for junior paper topics, especially in the spring term, to serve as starting points for a senior thesis topic. The Department encourages students to use the summer between junior and senior year for work on the senior thesis.
Your senior thesis may expand upon ideas that you explored in the JP. You may draw on and cite your own JP just like you would use other resources. In addition, you may re-use a limited portion of your JP in your senior thesis; for instance, the literature review could be re-used across the two. Whenever material from the JP is re-used, you must add a footnote noting the duplication across the JP or senior thesis. Note this policy does not affect the standard university guidelines for attributing ideas and research findings, whenever appropriate. The same policy holds with respect to incorporating the Fall junior research prospectus into either the Spring JP or senior thesis.
The length of a senior thesis is generally about 100 double-spaced pages and rarely under 80 pages. No thesis should be longer than 125 pages, including appendices. (This limit does not include the ancillary pages for the title, dedication, table of contents, abstract, bibliography and honor code statement.) Any pages after 125 may or may not be read by the second reader. A thesis longer than 125 pages will not be considered for Politics thesis prizes.
Also, seniors are required to prepare and present a professional poster describing their senior thesis results.
Senior Thesis Advisors 2023-2024

| Advisors | Availability | Fields of Study | Areas of Expertise |
| --- | --- | --- | --- |
| Gary Bass | Full | International Relations | International Security, Human Rights, International Justice, International Law |
| Mark R. Beissinger | Available | Comparative Politics | Social Movements and Contentious Politics, Nationalism, Statebuilding, Post-Communist Politics |
| Charles Beitz | Full | Political Theory | Contemporary Political Thought, Democratic Theory, Global Political Theory, Theories of Human Rights, Norms in International Relations |
| Nancy Bermeo | Available | Comparative Politics | Regime Change, Political Parties, Political Mobilization, Democracy |
| Christopher Blair | Full | International Relations | International Security, U.S. Foreign Policy, Civil Conflict, Migration, Political Psychology, Public Opinion, Statebuilding, Terrorism, Insurgency and Counterinsurgency |
| Carles Boix | Available | Comparative Politics, Political Economy | Empirical Democratic Theory, Political Economy, Political Institutions |
| Greg Conti | Available | Political Theory | History of Political Thought, Democratic Theory, Representation, Freedom of Speech |
| Rafaela Dancygier | Full | Comparative Politics, Race, Ethnicity and Identity | Representation, Immigration, Elections, Political Violence |
| Aaron Friedberg | Available | International Relations | International Security, Globalization, Political Economy, East Asia, Foreign and Defense Policy |
| Paul Frymer | Full | American Politics, Public Law, Race, Ethnicity and Identity | American Political Institutions, Law, Parties and Organizations, Civil Rights and Race, Labor and Employment, Historical Institutionalism |
| Robert P. George | Full | Political Theory, Public Law | Philosophy of Law, Constitutional Interpretation, Civil Liberties, Moral and Political Philosophy, Bioethics, Law and Religion, Natural Law Theory |
| Germán Gieczewski | Available | Formal Theory & Quantitative Methods, Political Economy | Political Economy, Game Theory, Networks, Information Transmission |
| Naima Green-Riley | Available | International Relations | Chinese Foreign Policy, U.S. Foreign Policy, Political Communication, Public Opinion |
| Andrew M. Guess | Full | American Politics | Political Communication, Social Media, Misinformation, Opinion Change, Experiments |
| Matias Iaryczower | Full | American Politics, Comparative Politics, Formal Theory & Quantitative Methods, Political Economy | Political Economy, Institutions and Collective Decision-Making in Legislatures, Courts and Electorates |
| Ethan Kapstein | Available | International Relations | International Political Economy, Economic Development, U.S. Foreign Policy, Conflict |
| John Kastellec | Available | American Politics, Public Law | American Political Institutions, Judicial Politics, Supreme Court Nominations |
| Patricia A. Kirkland | Full | American Politics | Urban Politics, State and Local Politics, Representation |
| Atul Kohli | Available | Comparative Politics | Political Economy of Development, Politics in India, Imperialism and the Developing World |
| Melissa Lane | Full | Political Theory | Ancient Greek and Roman Political Thought, Plato, Aristotle, Climate Change, Environmental Political Theory, Modern Political Thought |
| Frances Lee | Full | American Politics | Congress, Political Parties, Policymaking |
| John B. Londregan | Available | International Relations, Formal Theory & Quantitative Methods | South America, Political Economy, Electoral Politics, Text as Data |
| Nicholas Lotito | Full | Comparative Politics | International Security, Civil-Military Relations, Middle East and North Africa, Political Violence, Terrorism, Conflict, Democratization, Extremism |
| Stephen Macedo | Full | Political Theory | Citizenship and Civic Education, The Constitution, Marriage and Family, Immigration, Diversity, Civil Liberties, Free Speech and Hate Speech |
| Nolan McCarty | Full | American Politics | American Politics, Political Institutions, Political Polarization, Economic and Social Inequality, Political Economy of Financial Markets |
| Corrine McConnaughy | Available | American Politics, Race, Ethnicity and Identity | American Politics, Gender and Politics, Race, Ethnicity and Politics, American Political Development, Democratization, Social Movements and Protests, Policymaking, Social Identities, Federalism, State and Local Politics, Voting Rights, Political Decisionmaking |
| Helen V. Milner | Full | Comparative Politics, International Relations, Political Economy | International Political Economy, Comparative Political Economy, Globalization, The Resource Curse, Taxation, International Trade, Two-Level Bargaining Games, International Economic Cooperation, Taxation and Political Accountability |
| Layna Mosley | Available | International Relations, Political Economy | International Political Economy, Globalization, International Finance, Labor and Employment, Human Rights, Multinational Corporations, Global Supply Chains, International Trade |
| Jan-Werner Müller | Available | Political Theory | Democratic Theory, Constitutionalism, European Union, Politics and Religion |
| Jonathan Mummolo | Available | American Politics | Policing, Bureaucracy, Political Behavior, Quantitative Methods |
| Elizabeth Nugent | Available | Comparative Politics | Comparative Politics, Middle East and North Africa, Political Behavior, Political Psychology, Authoritarianism, Politics and Religion, Mixed Methods Research, Forced Migration, Public Opinion, Political Mobilization, Historical Legacies, State Violence and Repression, Political Control, Exile, Politics of the Internet in Non-Democratic Regimes, Elections and Voting in Non-Democratic Regimes, Gender and Politics in the Middle East, Politics of Climate Change in the Middle East |
| Alan Patten | Available | Political Theory | Political Theory, Theories of Justice, Democratic Theory, Nationalism, Multiculturalism, Language |
| Grigore Pop-Eleches | Available | Comparative Politics | Comparative Political Behavior, Authoritarian Politics, Historical Legacies, Eastern Europe and the Former Soviet Union, Latin America |
| Markus Prior | Available | American Politics | Public Opinion, Media and Politics, Political Involvement, Elections, Politics of Time |
| Kristopher Ramsay | Full | International Relations, Formal Theory & Quantitative Methods, Political Economy | Violent Conflict, War, Strategy, Political Economy, Environmental Politics |
| Jacob N. Shapiro | Available | International Relations | Conflict, Political Economy, Security, Development, Disinformation |
| Arthur Spirling | Available | Formal Theory & Quantitative Methods | Comparative Politics, Political Methodology, Text as Data, Machine Learning/AI, Political Institutions, Parliaments, British Politics |
| Anna Stilz | Available | Political Theory | Political Membership, Authority and Political Obligation, Nationalism and Self-Determination, Rights to Land and Territory, Collective Agency, Modern Political Thought |
| Rocio Titiunik | Available | Formal Theory & Quantitative Methods | Quantitative Methods, Political Methodology, Applied Statistics, Comparative Politics, Party Systems |
| Guadalupe Tuñón | Available | Comparative Politics, Political Economy | Comparative Politics, Political Economy, Politics and Religion, Judicial Politics, Latin American Politics |
| Sam Van Noort | Available | | Comparative Politics, Political Economy, Democratization, Democratic Backsliding |
| James Raymond Vreeland | Full | Comparative Politics, International Relations | International Political Economy, International Organizations, Democratization, Transparency |
| Leonard Wantchekon | Available | Comparative Politics, Formal Theory & Quantitative Methods, Political Economy | Political Economy, Elections, Democratization, Governance |
| Ismail White | Full | American Politics, Race, Ethnicity and Identity | Race, Ethnicity and Politics, Racial Attitudes, American Politics, Political Behavior, Public Opinion, African American Politics |
| Keith E. Whittington | Available | American Politics, Public Law | American Constitutional Politics and History, Constitutional Theory, American Political Development, American Political Thought, Politics of Law and Courts, Presidential Politics, Federalism |
| Andreas Wiedemann | Full | Comparative Politics, Political Economy | Political Economy, Economic Inequality, Social Policy, Representation |
| Xu Xu | Available | Comparative Politics, Political Economy | Digital Authoritarianism, Repression, Chinese Politics, Political Economy of Development |
| Deborah Yashar | Available | Comparative Politics, Race, Ethnicity and Identity | Regime Politics, Ethnic Politics and Social Movements, Political Violence, State Formation, State Capacity, Latin American Politics |